REMOVABLE CANOPY SHELVING
To suit the Utemaster Centurion Canopy™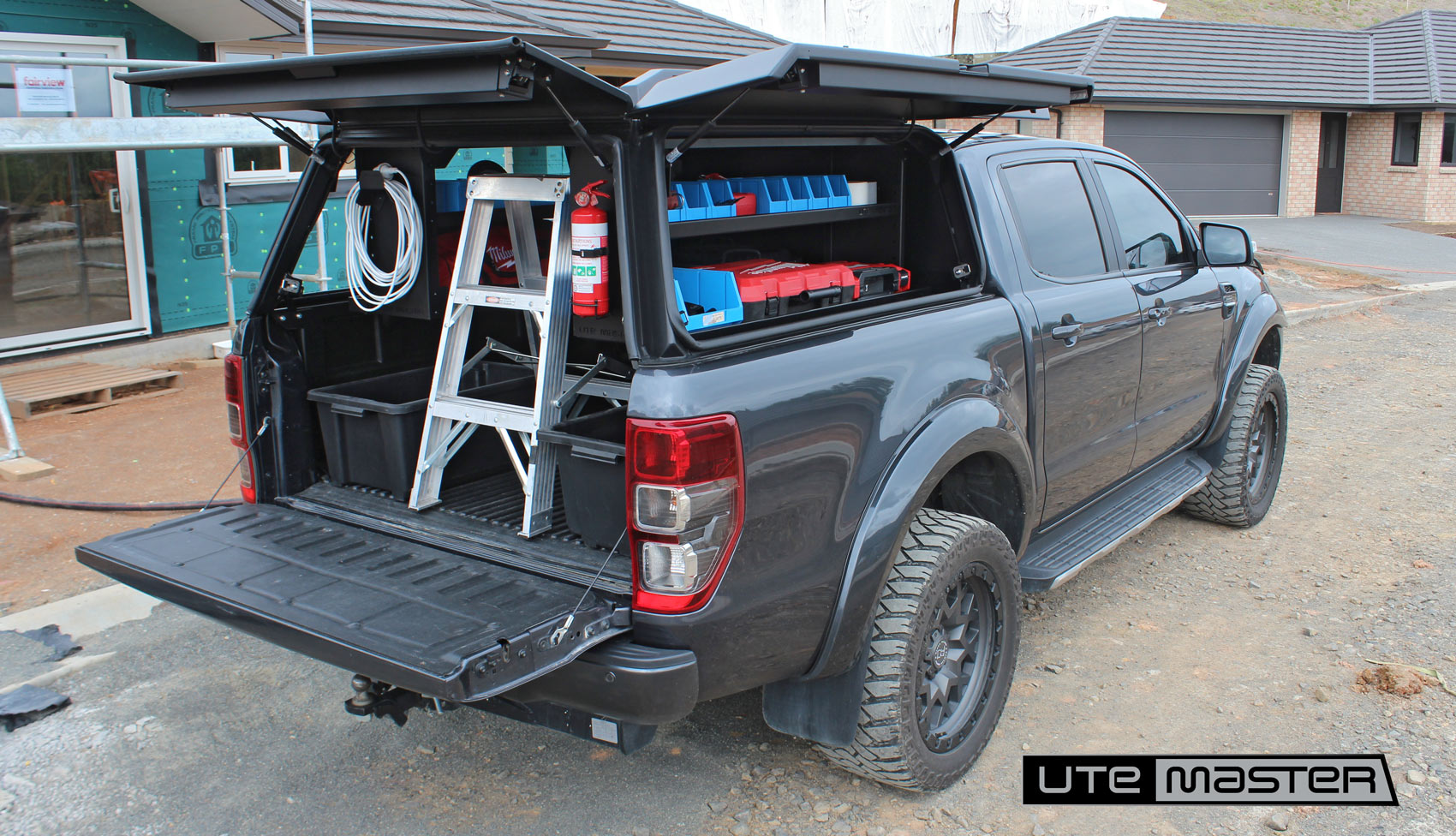 Please note: This accessory is only compatible with Centurion Canopies ordered after January 2021. No drilling is required.
Right Side Removable Canopy Shelving: Part #CANOPY-SHELVES-R
Left Side Removable Canopy Shelving: Part #CANOPY-SHELVES-L
Shelving T-Track is model specific, refer to the list at the bottom of the page.
The Removable Canopy Shelving
The Removable Canopy Shelving Unit complements the full-width door access of a Centurion Canopy™ and provides an organised area to store your tool cases, small parts and equipment inside your tub.
It's ideal for tradie because it's attached to the Canopy using a T-Track system so when you've finished a hard week of work you can easily whip it out for the weekend.

Easy To Remove
The Removable Canopy Shelving Unit is attached using a T-Track system which is mounted to the ceiling using the same load-bearing mounts that support the Cantilever Rack.
Having your Canopy area organised with shelving is hugely beneficial. However, it can sometimes get in the way if you need to carry larger objects.
This is why we have designed it to be easily removed on demand.
To install the shelving unit initially, no drilling is required because it fits into the existing mount points.
Adjustable Spacing
Over the life of the shelving unit, it's likely that you will change or swap out the tools you are carrying.
The side supports of the shelving unit have multiple pre-cut holes which allow you to reposition the height spacing of your shelves.
This can be useful if you switch to a different height tool case that needs to fit into the shelf space.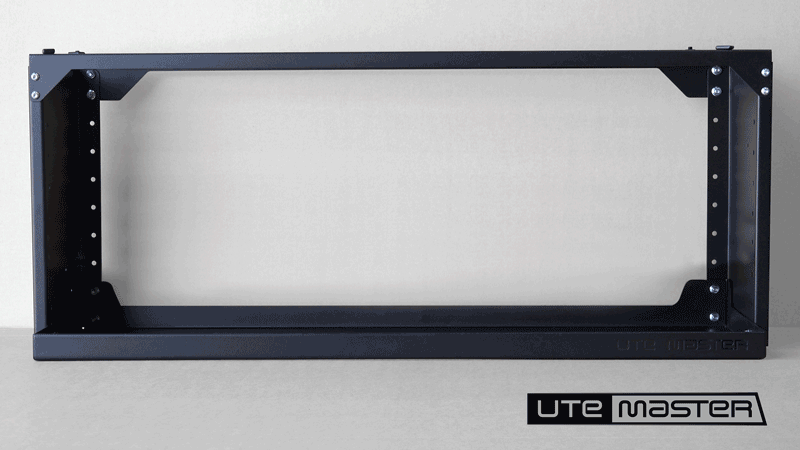 Ceiling Mount System
The shelving unit requires no fixtures to the floor as it is completely suspended from the ceiling.
This keeps your floor area open and unobstructed for carrying gear. If you want to add tub drawers this can also be done without needing to worry about fixing it to these.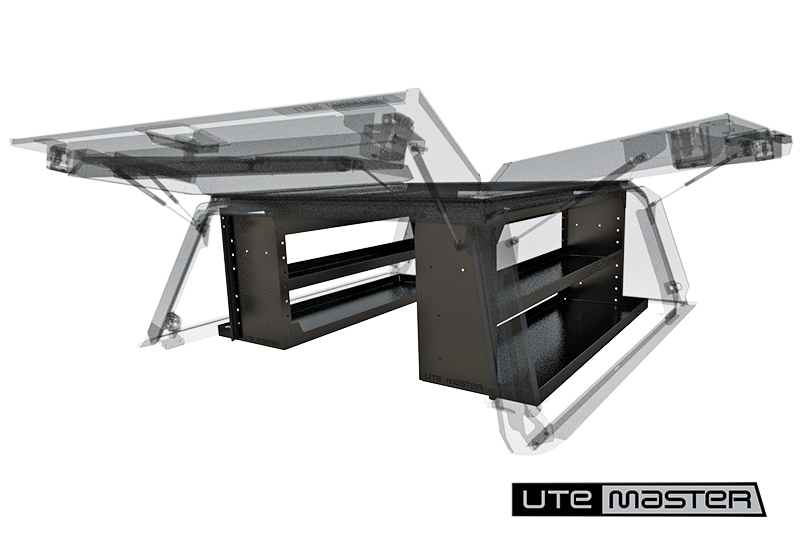 Robust Mounting Track
The robust mounting track gives you the ability to mount additional accessories and or lighting without having to drill through the skin of the canopy.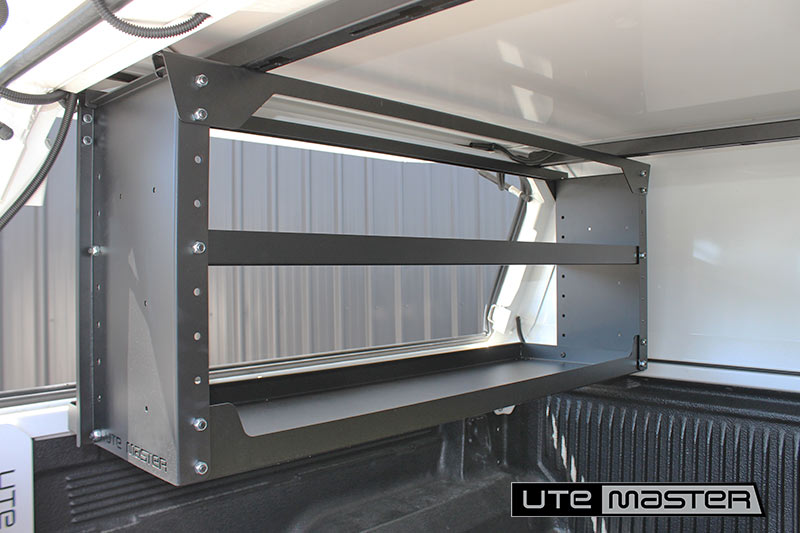 Optional Shelf Back Accessory
Features Include:
- Stops items sliding off the back of the shelf.
- Multiple mounting slots for fixing inverters, document holders, battery chargers.
- Can be used to secure a small ladder.
- Slots and cutouts for attaching bungee hooks.
- Easy to install.
- Spring washers to avoid bolts coming loose.
- Sponge tape between backplate and shelving unit to prevent rattling.
- 2x Utility Hooks are supplied with each shelf back for hanging small items such as hard hats, high viz vest, ear muffs, wet clothes bag, etc.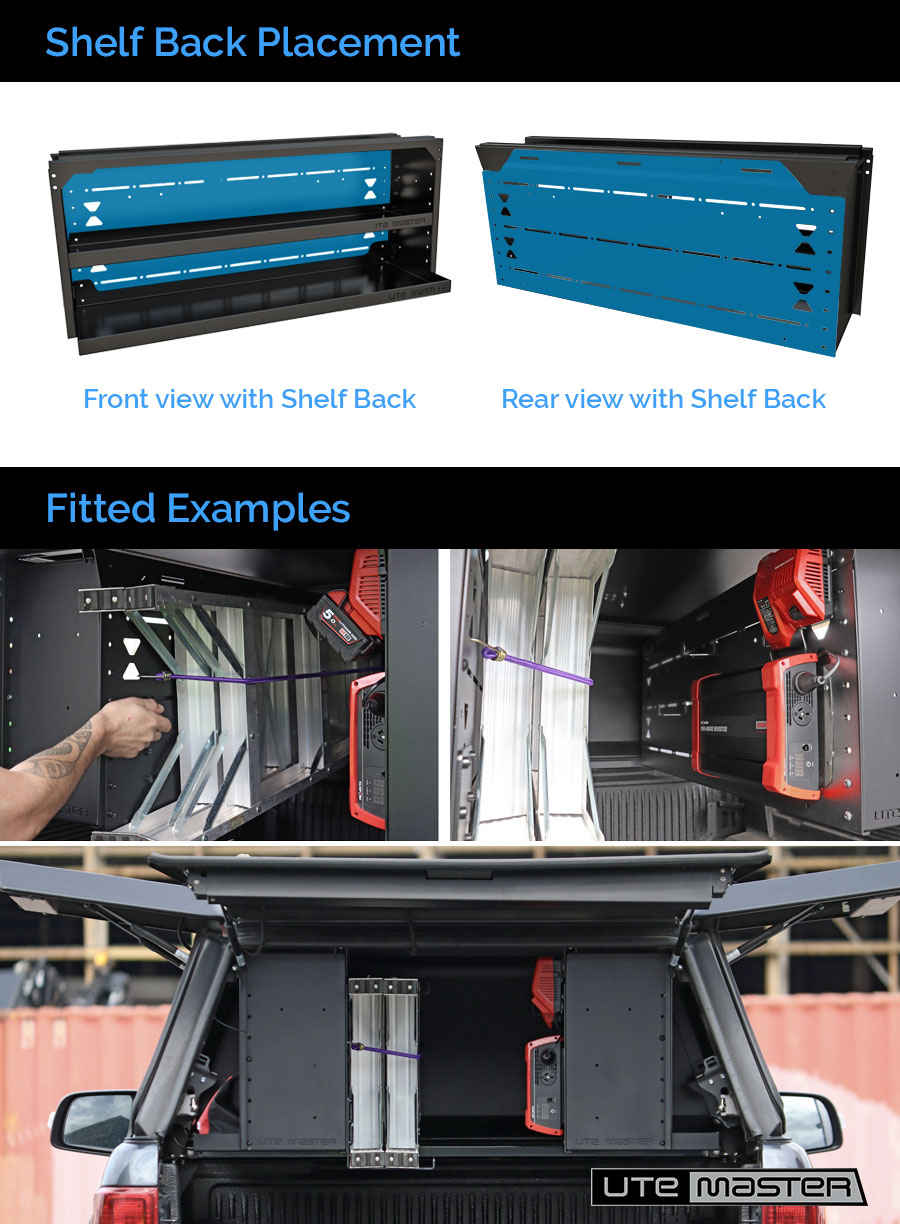 Load Rating
The Removable Shelving Unit has a load rating of 30kg per shelf, with a total rating of 60kg per side.
This is enough to fit carry all your tool cases, parts and equipment.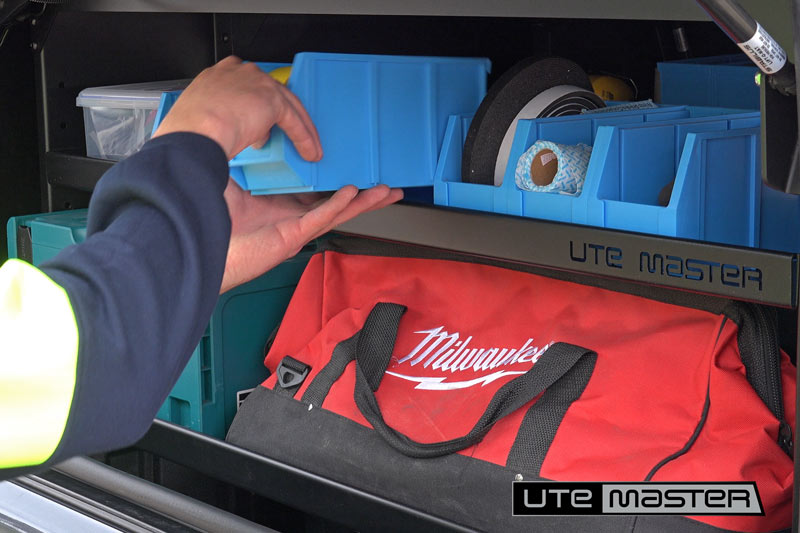 Aluminium Construction
The removable shelving unit is made from the same materials as the canopy (powder-coated black aluminium)
It is rust-free, heavy-duty and matches the overall style of your setup.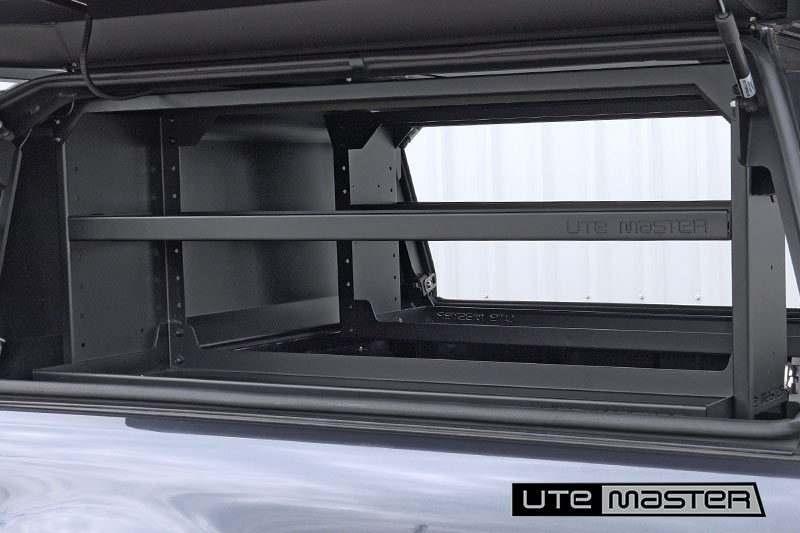 Customisable
The aluminium construction of the shelving unit makes it easy to fix your own equipment such as a Fire Extinguisher (comes standard with holes to take a 1kg Orca Fire Extinguisher), which should have a dedicated home so you can find it quickly in an emergency.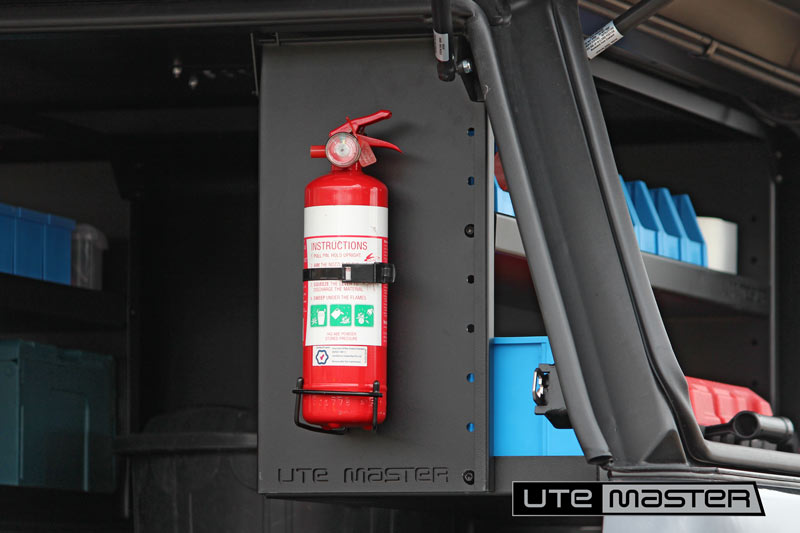 Optional Cable Holder
If an object like an extension cord is not properly organised it can easily get tangled amongst other gear.
The optional cable holder creates a dedicated space for your power leads making them easier to find when you need them and tangle-free!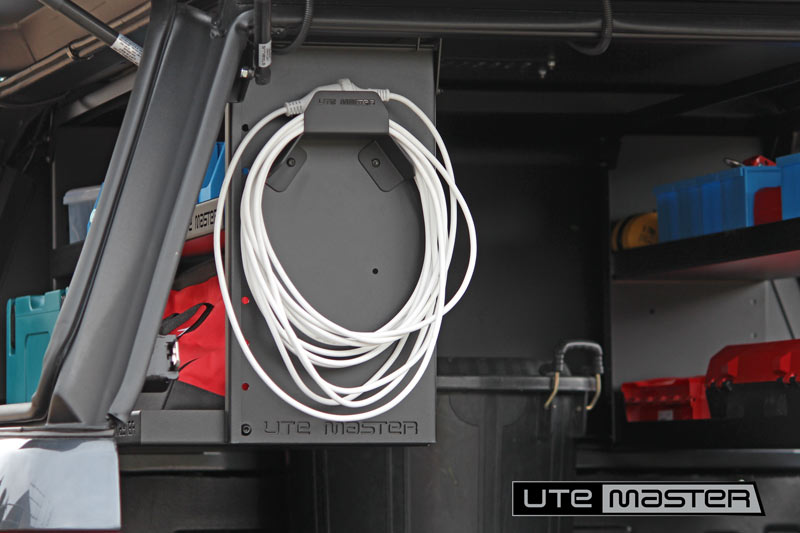 Designed for the Utemaster Centurion Canopy™
The aluminium construction of the Centurion Canopy™ allows it to support accessories like the Removable Shelving Unit.
To find out more about the Canopy design, click the button below: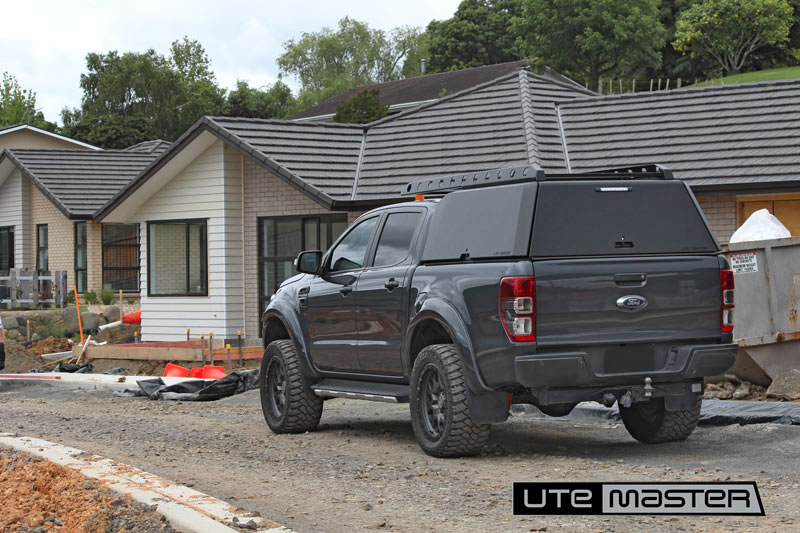 Removable Shelving Dimensions

Pricing/Quote
1) Head to our Ute Builder
2) Select your vehicle model
3) Choose a product and accessories
Click "Send Build Summary" to send yourself a full breakdown of the build with more information
Frequently Asked Questions
Q) How much does a single shelving unit weigh?
A) Weight of Tracks: 4kg
Weight of 1x Removable Shelving Unit: 4.4kg
Q) Are the Shelving Units model-specific?
A) The Removable Shelving Units are not brand specific, so a single unit is designed to work with every model of the Centurion Canopy.
Q) Can Utemaster supply the blue storage containers?
A) The storage containers pictured above are not a product supplied by Utemaster, please refer to the shelving dimensions to check whether or not cases or containers fit the shelves.
Q) Can the shelving units be moved from one side to the other?
A) Yes, each unit is designed to work on both sides of the canopy.
You may also be interested in...
Utemaster Cantilever Roof Rack to suit Centurion Canopy
Part Numbers
Shelving T-Track to suit Ranger: Part #CANOPY-INTERNALTRACKS-FR
Shelving T-Track to suit Cannon: Part #CANOPY-INTERNALTRACKS-GC
Shelving T-Track to suit D-Max: Part #CANOPY-INTERNALTRACKS-IDD12
Shelving T-Track to suit BT50: Part #CANOPY-INTERNALTRACKS-MBC9
Shelving T-Track to suit Triton: Part #CANOPY-INTERNALTRACKS-MT
Shelving T-Track to suit Navara: Part #CANOPY-INTERNALTRACKS-NNC1
Shelving T-Track to suit Hilux SR5: Part #CANOPY-INTERNALTRACKS-TH
Shelving T-Track to suit Hilux SR (J deck): Part #CANOPY-INTERNALTRACKS-TC-SRTH
Right Side Cable Holder: Part #CABLE-HOLDER
Left Side Cable Holder: Part #CABLE-HOLDER
Right Side Removable Shelving: Part #CANOPY-SHELVES-R
Left Side Removable Shelving: Part #CANOPY-SHELVES-L